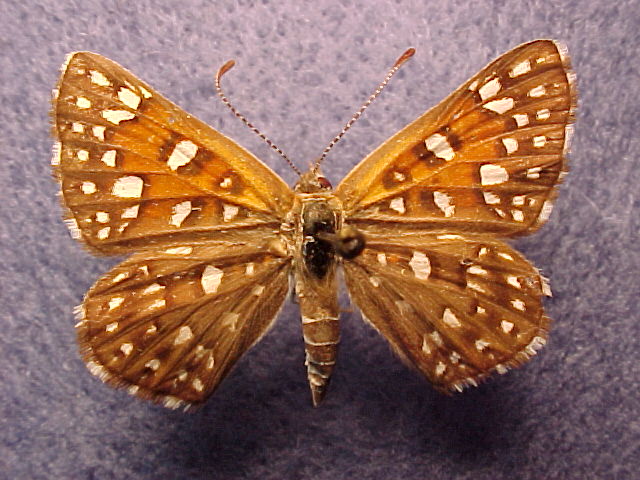 Family Riodinidae, the Metalmarks
Family Facts:
The common name of this family, the Metalmarks, refers to the bright, metallic spots marking the wings of many of its members.
Some sources consider this family to be a subfamily of the Lycaenidae. Like the Lycaenids, the males of this family have reduced forelegs while the females have full-sized, fully functional forelegs.
There are only about 20 species of this family occurring in North America; only one can be found in Idaho. It belongs to the Subfamily Riodininae.
In addition to the traits listed above, the butterflies are generally characterized by: 1) the foreleg of most males, in addition to being reduced, has a uniquely shaped first segment (the coxa) which extends beyond its joint with the second segment, rather than meeting it flush; 2) the hindwing exhibits unique vennation; and 3) most species perch on the undersides of leaves with the wings held open and completely flat.
Eggs vary in shape but often appear round and flattened. The caterpillars are usually hairy, plump, and are the common overwintering stage. Pupa are hairy and attached with silk to either the host plant or to ground debris or leaf litter. There is no cocoon.
Family Members in Idaho: