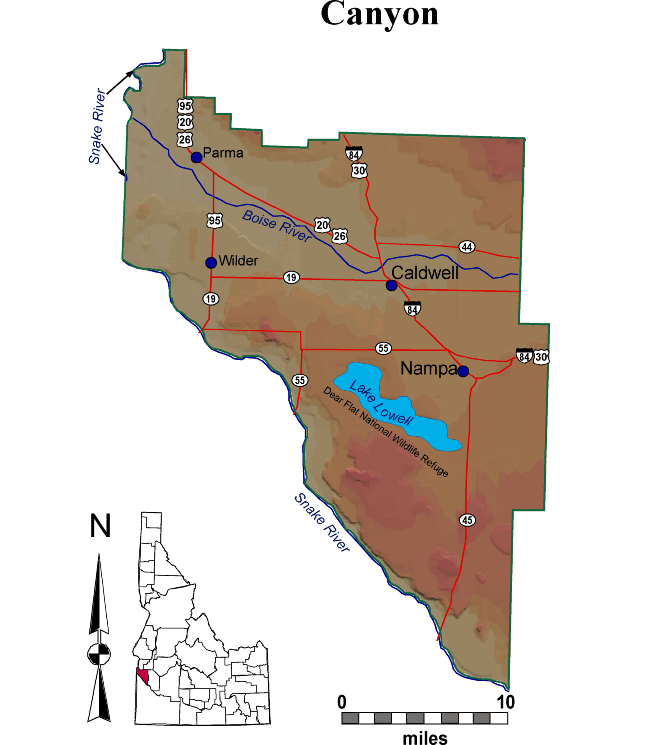 County Links
Cities and Towns:
Caldwell
Nampa
Parma
Wilder
Deer Flats National Wildlife Refuge
Fisheries & Drainage Regions
Snake River-C.J. Strike
Boise River
---
Location
43.6257 N, 116.7070 W

Land Area
603 square miles

County Seat
Caldwell

Population
116,675

Background
Established March 7, 1891 with its county seat at Caldwell. Current sources attribute the name to the canyon of the Boise River near Caldwell. However, both John Rees and Vardis Fisher believed it was named for the Snake River canyon which forms a natural boundary for the county. The Hudson's Bay Company established Fort Boise in 1834 near what is now Parma, but abandoned it in 1855. Immigrants traveled through Canyon County on the Oregon Trail.
County Clerk
County Courthouse
Caldwell, ID 83605-3542
Phone: (208) 454-7557
Fax: (208) 454-6689

County Assessor
1115 Albany Street
Caldwell, ID 83605
Phone: (208) 454-7431

Visit these Web Sites for more information.
---
ALSO VISIT
Demographics