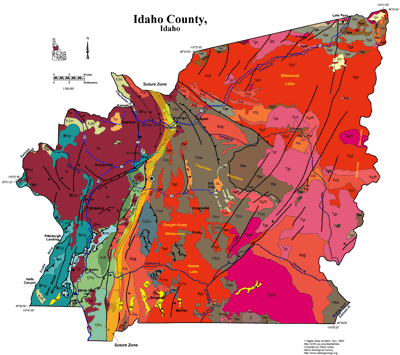 Click on the map above for a larger version
| | |
| --- | --- |
| | Geologic Units |
| | Quaternary alluvial deposits |
| | Quaternary moraine and glaciofluvial outwash |
| | Tertiary sedimentary rocks, undifferentiated |
| | Eocene Challis Volcanic Group, volcanics and volcaniclastics |
| | Miocene basalt (Columbia River Basalt Group) |
| | Eocene granite, pink granite, syenite, rhyolite dikes, and rhyolitic shallow intrusive |
| | Eocene granodiorite, granite, diorite, and shallow dacitic intrusive |
| | Cretaceous granite and granodiorite of the 2-mica suite (Idaho batholith) |
| | Cretaceous orthogneiss, and foliated granodiorite and granite (includes mylonitic plutonic rocks in western Idaho suture zone) |
| | Cretaceous tonalite and quartz diorite |
| | Dioritic, gabbroic, granitic, and amphibolitic rocks of the Blue Mountains island arc terrane |
| | Felsic plutonic rocks intruded into the accreted terranes of western Idaho (includes tonalite and trondhjemite and granodiorite) |
| | Coon Hollow Formation (Wallowa Terrane) |
| | Riggins Group and Orofino series |
| | Island-arc volcanic and intrusive complex |
| | Intrusive rocks of the Wallowa Terrane |
| | Seven Devils Group (Wallowa Terrane) |
| | Paleozoic/Neoproterozoic metasedimentary rocks (includes formation of Leaton Gulch) |
| | Paleozoic/Mesoproterozoic schist and quartzite |
| | Neoproterozoic intrusive rocks of Windermere Supergroup age |
| | Mesoproterozoic amphibolite |
| | Mesoproterozoic augen gneiss and porphyritic granite |
| | Belt Supergroup and related rocks (includes Meadow Creek metamorphic sequence) |
| | Quartzite and calc-silicate gneiss of the Wallace Formation |
| | Quartzite and schist of the Ravalli group |
| | Quartzite and schist of the Prichard Formation |
| | Metamorphic rocks, Elk City metamorphic sequence and related rocks, Syringa metamorphic sequence, and Priest River metamorphic complex |
| | |
| --- | --- |
| | Map Key |
| | Geologic units with unit designation. |
| | Normal Fault: certain; dashed where approximately located; dotted where concealed. |
| | Thrust Fault: certain; dashed where approximately located; dotted where concealed. |
| | Detachment Fault: certain; dashed where approximately located; dotted where concealed. |
| | Interstate Route. |
| | U.S. Route. |
| | State Route. |
| | Location of Rockwalk rock from the county. |
| | Cities. |
| | Feature location. |
Idaho County
Idaho County spans the River of No Return and Selway-Bitterroot Wilderness and includes both the eastern and western borders of the state. Its geology is complex and diverse.
On the west are the Seven Devils Mountains and Hells Canyon of the Snake River. The rocks here are Paleozoic metavolcanic and metasedimentary rocks from accreted terranes that formed in the Pacific and docks in the Early Cretaceous, along the Idaho Suture Zone, which runs north-south through Idaho County, following the Clearwater River. West of this suture are diverse exotic volcanic assemblages, overlain by Miocene Columbia River basalts that form the Camas Prairie near Grangeville.
East of the suture are the Clearwater Mountains, underlain by Proterozoic and Paleozoic rocks with affinity to North America, and intruded by the Cretaceous Idaho batholith. Many of these strata are Mesoproterozoic Belt Supergroup, though some have uncertain affinity. On the southeast and along the eastern border with Montana in the Bitterroot Mountains are Eocene intrusive rocks, associated with the Challis magmatic episode. Northwest striking faults parallel with the trans-Challis fault zone cut this country, southeast of Elk City.
Southeast of Grangeville, in the Gospel-Hump Wilderness are Neoproterozoic Windermere Supergroup volcanic rocks with an age of 687 Ma, that overlie glacial diamictite correlated with the Pocatello Formation of southeast Idaho.
Excellent discussion of the geology of this area is found in Orr, W.N., and Orr, E.L., 2002, Geology of the Pacific Northwest, 2nd ed., McGraw Hill Pubs., p. 138-159.
Good information is also contained in Alt, D. D., and Hyndman, D.W., 1989, Roadside Geology of Idaho, Mountain Press, Missoula, 393 p.
P.K. Link, 10/02
Additional Reading

Rocks Rails and Trails: page
References on Idaho Geology