About the Eastern Idaho Guidebook:
Guidebook to the Geology of Eastern Idaho
---
Edited by:
Scott S. Hughes and Glenn D. Thackray Department of Geology, Idaho State University

Funding provided by:
Idaho State University College of Arts and Sciences Idaho State University Office of Research Snake River Section, Society of Mining Engineers Idaho Association of Geoscientists (IAPG)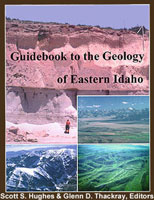 Cover color separations provided by:
U.S.D.A. Forest Service GIS Center of Excellence Ogden, Utah:
Top Center - Quarry exposure of the 1.3 Ma Mesa Falls Tuff, produced during the climactic eruption of Henry's Fork Caldera. The quarry was recently destroyed to build a housing development.
Middle Right - View southwest of the Upper Pahsimeroi River, with Borah Peak on right skyline, and Idaho's only glacier below, in shadow.
Bottom Right - Aerial view looking southeast at doubly-plunging anticline cored by Gypsum Springs Member of Jurassic Twin Creek Formation.
Bottom Left - Aerial view of folded Paleozoic rocks along the Continental Divide in the Southern Beaverhead Range.
Printing Information:
© 1999 Idaho Museum of Natural History All rights reserved. Published by the Idaho Museum of Natural History in cooperation with the ISU Press Idaho State University, Pocatello, Idaho 83209 Printed in Pocatello by Graphic Arts/Printing Technology School of Applied Technology Idaho State University ISBN 0-937834-64-5 First printing, February 1999
List of Reviewers:
Roy Breckenridge, Bob Christiansen, Rebecca Dorsey, Diane Doser, Maya Elrick, Karl Evans, Dennis Geist, Gary Gianniny, Ron Greeley, Bob Hall, Alan James, Susanne Janecke, Darrell Kaufman, Joe Kruger, Mel Kuntz, Sharon Lewis, Paul Link, William Locke, Karen Lund, Frank Pazzaglia, Ken Pierce, Lucian Platt, Hal Prostka, Dave Rodgers, Betty Skipp, Dick Smith, Jim Stephens, Mike Stickney, Ray Torres, Russ Tysdal, Gus Winterfeld.
Acknowledgments:
We are indebted to many people for helping to bring this project to fruition. We thank the many authors for their contributions. Without these efforts the volume would vanish into thin air. Vita Taube, Jim Riesterer and Diana Boyack, with a modicum of additional student help, completed the yeoman's service of bringing figures, submitted in a variety of formats, into the specific formats required. Connie Tillotson helped in a variety of ways, at the expense of regular duties which were performed at odd hours unbeknownst to us, with organizing and managing the numerous mailings associated with the volume. Brian Hawk and Amy Smith of the Idaho State University Graphic Arts/Printing Technology Department in the School of Applied Technology facilitated final printing and binding. We thank Paul Link for his fund-raising efforts, and for being a spark plug and providing much-needed assistance during the editorial process.
Hearty thanks go to two important professional organizations: the Snake River Section of the Society of Mining Engineers and the Idaho Association of Geoscientists (IAPG), for their financial contributions. We also thank Dr. Victor S. "Butch" Hjelm, ISU Dean of Arts and Sciences, and Dr. Edwin W. House, ISU Dean of Research, for providing capital to support this project. These sources of funds were not only essential for publication, but also enabled the editors and authors to focus on the scientific merits and quality of papers rather than worry about being able to publish the book. Finally, we are indebted to the many reviewers, listed on the following page, for helping to keep the science tight and the presentation lucid, and to our colleagues in the ISU Department of Geology for supporting us in this task.
We dedicate this volume to the innumerable geologists, prospectors, researchers, mentors, students, professionals, amateurs, and folks who simply enjoy wandering about trying to make sense of it all who have scratched around in this part of the world over the past millennium. Many of these people are still around; some are buried in the hills.
Scott Hughes and Glenn Thackray February, 1999
Preface:
The Guidebook to the Geology of Eastern Idaho collects a variety of papers describing the geology of eastern Idaho and surrounding regions. The primary purpose of the guidebook is to bring together both new research and a wealth of previously published information and locations that have been used as teaching material for years by faculty at Idaho State University and other institutions.
We publish this book in conjunction with the 1999 meeting of the Rocky Mountain Section of the Geological Society of America The Last Best Rocky Mountain Section GSA Meeting of the Millennium held in Pocatello in April, 1999. Several of the papers herein describe field trips run in conjunction with that meeting, while others were submitted as stand-alone articles or were solicited with the purpose of rounding out the geographic and/or topical coverage of the volume. All papers have been peer-reviewed by at least two professional geologists. The papers utilize a variety of formats in discussing their topics. Some are organized as field guides; others include text in the form of journal articles, followed in most cases by formal road logs (and one river log!). The papers cover a variety of topics ranging from river incision to volcanism to phosphate mining, and geologic periods ranging from Proterozoic to Holocene.
This guidebook complements two previous guidebooks describing the geology of Idaho. Guidebook to the Geology of Central and Southern Idaho, edited by Paul Karl Link and William R. Hackett, was published in conjunction with the 1988 GSA Rocky Mountain Section meeting, hosted in Sun Valley by the ISU Department of Geology. Guidebook to the Geology of Northern and Western Idaho and Surrounding Areas, edited by V.E. Chamberlain, Roy M. Breckenridge, and Bill Bonnichsen, was published in conjunction with the 1989 GSA Rocky Mountain-Cordilleran Sections meeting, held in Spokane. Those volumes were published as Idaho Geological Survey Bulletins 27 and 28. We are pleased to publish this volume through the Idaho Museum of Natural History.
---