State Flag:
A silk flag, with a blue field, 5 feet 6 inches fly, 4 feet 4 inches on pike is bordered by gilt fringe 2 1/2 inches wide, with the State Seal of Idaho in the center. The words "State of Idaho" are embroidered in gold block letters two inches high on a red band below the Great Seal. Adopted by the 1907 legislature.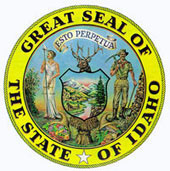 State Seal:
In 1957, the thirty-fourth session of the Idaho legislature authorized the updating and improvement of the Great Seal in order to more clearly define Idaho's main industries, mining, agriculture and forestry as well as highlight the state's natural beauty . Paul B. Evans and the Caxton Printers, Ltd. were commissioned to revise the seal.
Land Area:
83,751 square miles, 13th in area size
Water Area:
823 square miles
Highest Point:
12,662 feet above sea level at the summit of Mt. Borah, Custer County in the Lost River Range
Lowest Point:
770 feet above sea level at the Snake River at Lewiston.
Length:
479 Miles
Width:
305 miles at widest point
Geographic Center:
Settlement of Custer on the Yankee Fork River, Custer County
Number of Lakes:
More than 2,000
Navigable Rivers:
Snake, Coeur d'Alene, St. Joe, St. Maries and Kootenai
Largest Lake:
Lake Pend Oreille, 180 square miles
Temperature Extremes:
Highest, 118 degrees at Orofino July 28, 1934 * Lowest, -60 degrees at Island Park Dam, January 18, 1943.
Population (as of 1995):
Total: 1,163,261 - 41st among states
Median age of population - 32.8
Number of households - 416,000
Persons per household - 2.74
Number of U.S. Senators - 2
Number of U.S. Representatives - 2
Number of U.S. Electoral College Votes - 4
Land Ownership:
Land federally owned - 63.7%
Land state owned - 5.1%
Land privately owned - 31.0%
Land city/county owned - 0.2%
State of Idaho Facts Page
State Folkdance:
The 1989 legislature designated the square dance as the American Folk Dance of Idaho. The square dance was first associated with the American people and recorded in history since 1651. Square dancing includes squares, rounds, clogging, contra, line and heritage dances.
State Insect:
Monarch Butterfly (Danaus plexippus)
State Fish:
Cutthroat Trout (Salmo clarki)
State Bird:
Mountain Bluebird (Sialia currucoides)
State Horse:
The Appaloosa is an intelligent, fast and hard working breed. An easy going disposition and exceptional abilities give this horse a great deal of versatility that no doubt contributes to its rapidly rising popularity. Once the warhorses of the Nez Perce, today the Appaloosa serves as a racehorse, in parades, ranch work and youth programs. The coloring of the Appaloosa's coat is distinct in every individual horse and ranges from white blanketed hips to a full leopard. Adopted by the 1975 legislature.
State Flower:
The Syringa (Philadelphus lewisii), also known as Mock Orange, was designated the state flower of Idaho by the legislature in 1931. It is a branching shrub with clusters of white, fragrant flowers. The blossoms are similar to the mock orange, have four petals, and the flowers grow at the ends of short, leafy branches.
State Tree:
The Western White Pine (Pinus Monticola pinaceae), our state tree, is probably most notable since the largest remaining volume of this timber in the United States grows in the northern part of Idaho. White Pine has many fine qualities such as straight grain and soft even texture. Adopted by the 1935 legislature.
State Fossil:
The 1988 legislature designated the Hagerman Horse Fossil (species Equus simplicidens originally described as Plesippus shoshonensis) as the official state fossil. A rich fossil bed 3.5 million years old, which has yielded over 130 complete horse skeletons, was discovered in the 1920s near Hagerman and is said to be the best known Pleistocene-epoch fossil site in the world.
State Gemstone:
Adopted by the 1967 Legislature, the Idaho Star Garnet is treasured throughout the world by collectors. This stone is considered more precious than either Star Rubies or Star Sapphires. Normally the star in the Idaho Garnet has four rays, but occasionally one has six rays as in a sapphire. The color is usually dark purple or plum and the star seems to glide or float across the dark surface.
State Song:
Official State Song by Enactment of the Twenty-first Session of the Idaho Legislature
Verses by Albert J.Tompkins
Chorus by McKinley Helm
Music by Sallie Hume-Douglas
Here We Have Idaho
You've heard of the wonders our land does possess,
Its beautiful valleys and hills.
The majestic forests where nature abounds,
We love every nook and rill

Chorus:
And here we have Idaho,
Winning her way to fame.
Silver and gold in the sunlight blaze,
And romance lies in her name.

Singing, we're singing of you,
Ah, proudly too. All our lives thru,
We'll go singing, singing of you,
Singing of Idaho.
There's truly one state in this great land of ours,
Where ideals can be realized.
The pioneers made it so for you and me,
A legacy we'll always prize.
Chorus
Click here to Listen to the State Song!