Kootenai River Drainage
---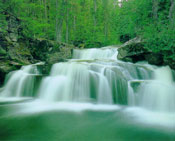 Waterfall on Cow Creek, Selkirk Mountain, Kaniksu National Forest.

The Kootenai River is located at the north end of the Idaho Panhandle in Boundary County. It originates in southeastern British Columbia, flows south and west through Montana, and northwest through Idaho, then returns to Canada where it flows through Kootenay Lake and joins the Columbia River at Castlegar, British Columbia. At the International border at Porthill, Idaho, it drains approximately 13,700 square miles with an average discharge of 16,100 cfs. The 66 miles of river in Idaho can be divided into two reaches. The 47-mile section from Porthill to Bonners Ferry is a slow moving, broad, meandering river with holes up to 100 feet deep. Water level is affected by a dam at the outlet of Kootenay Lake. The 19 miles of river upstream from Bonners Ferry to Montana flows in a canyon with an average gradient of 3 feet/mile.

The Kootenai River is the only drainage in the State of Idaho where ling (burbot) are native. The Kootenai River is also home to the white sturgeon. Fisheries for both of these species have been closed in response to major declines in these populations. The Kootenai River white sturgeon was listed as an Endangered Species on September 7, 1994.

Inland (redband) rainbow trout are native to the Kootenai River drainage and are present in the mainstem Kootenai River and above barriers in some tributaries. Hatchery rainbow trout have been widely introduced throughout the drainage, however. Other native salmonids include westslope cutthroat trout, bull trout, and mountain whitefish. Introduced eastern brook trout are present throughout the drainage, and a few remnant early spawning kokanee salmon from Kootenay Lake, British Columbia, are present in the mainstem Kootenai River and some west side tributaries during the summer and fall. Kokanee salmon also enter the Kootenai River from Libby Reservoir during some years.

Numerous mountain lakes in the Selkirk and Purcell ranges are stocked with trout fry on a rotating basis. Westslope cutthroat trout, domestic Kamloops rainbow trout, and brook trout are present in most of the lakes, although a few lakes are reserved for specialty species, such as Arctic grayling and golden trout.

Numerous natural lowland lakes provide a mixed bag fishery for trout and spiny-rayed species. Naturalized populations of largemouth bass, black crappie, brown bullhead, yellow perch, and pumpkinseed are present in most lakes. Channel catfish, tiger muskie, and bluegill have been introduced in some lakes. Put-and-take rainbow trout, brook trout fingerlings, and some kokanee salmon are stocked in these lakes to provide salmonid fisheries.

The majority of waters in the Kootenai drainage produce fishing for trout. The Kootenai River and its tributaries, mountain lakes, lowland lakes, and the Moyie River with its tributaries all provide moderate amounts of relatively high quality trout fishing.
---
Written and compiled by Jacqueline Harvey 1999.