Middle Fork Salmon River Drainage
---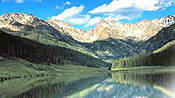 Mountain lake, Challis National Forest.

The Middle Fork Salmon River drains 2,830 square miles of central Idaho. The main river is classified as wild as part of the Wild and Scenic Rivers System, and most of the drainage is within the Frank Church River of No Return Wilderness Area. Prior to classification as wilderness, the Middle Fork Salmon River drainage was included in the Idaho Primitive Area.

The topography in the Middle Fork Salmon River drainage is extremely rugged and remote. Road access is limited to a single point on the main river at Dagger Falls and secondary roads to the upper ends of a few tributary streams. The principal means of access are aircraft, boat, and trail.

Anadromous species include wild, indigenous spring and summer chinook salmon and summer steelhead. The Middle Fork Salmon River is one of only three drainages in the Columbia Basin that supports a population of wild steelhead classified as B-run because they are predominantly large fish which spend two or three years in the ocean. Both the chinook and steelhead of the Middle Fork Salmon River are adapted to the long migration distances necessary for their perpetuation.

Native, resident game species include bull trout, cutthroat trout, and mountain whitefish. The Middle Fork Salmon River cutthroat trout population has recently been identified as a pure westslope strain and unique to any other westslope strain yet identified throughout the current range.

There are no major dams in the Middle Fork drainage, and many of the streams are in pristine condition. Some tributary streams have been, and are being, altered by mining activity. Major mining sites and their access roads were not included in the wilderness area. Other tributaries are impacted by grazing allotments that cause streambank and riparian vegetation damage.
---
Written and compiled by Jacqueline Harvey 1999.