East Fork Salmon River Drainage
---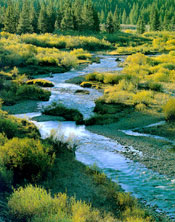 Summit Creek, Pioneer Mountains.

The East Fork Salmon River flows 33 miles from the confluence of the South and West forks before entering the Salmon River at river mile 343. The drainage area is 540 square miles and includes the White Cloud Peaks to the west and the Boulder Mountains to the south. Water supply and quality in the upper drainage is excellent for fish spawning and rearing. In the lower drainage, the river bisects a zone of volcanic soils which are highly erosive. Lack of vegetative cover and livestock grazing in the riparian zone result in substantial sediment loads to the river, particularly during spring runoff.

The drainage supports runs of spring and summer chinook salmon and steelhead trout. The East Fork is one of the most important tributaries for salmon spawning and rearing in the upper Salmon River drainage. A trapping facility, constructed at approximately river mile 18 in 1984, collects steelhead as part of the Sawtooth Hatchery operation. Hatchery steelhead in this drainage are B-run fish originally from Dworshak National Fish Hatchery.
---
Written and compiled by Jacqueline Harvey 1999.