Payette River Drainage
---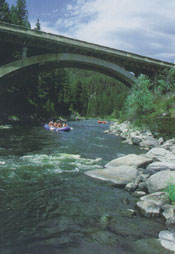 Rainbow Bridge, North Fork of the Payette River.
The Payette River Basin lies in southwestern Idaho. Its headwaters originate in the Sawtooth and Salmon River mountains at elevations over 10,000 feet. The drainage flows in a southwesterly direction for over 175 miles where it empties into the Snake River near Payette at an elevation of 2,125 feet. The Payette River Basin comprises about 3,240 square miles.
Principal tributaries are the North and South Forks of the Payette River. The North Fork drains about 950 square miles and the South Fork about 1,200 square miles. The Payette River has an average annual discharge into the Snake River of 2,192,000 acre-feet of water.
Due to the wide range in elevation, the Payette River has a variety of fish and fish habitats. Salmon and steelhead were eliminated in the drainage by Black Canyon Dam. From its mouth upstream to Black Canyon Dam, the river supports a mixed fishery for coldwater and warmwater species. Mountain whitefish make up the bulk of game fish in this section of river, with smallmouth bass, largemouth bass, channel catfish, black crappie, rainbow trout, and brown trout making significant contributions. Upstream from Black Canyon Dam, the gradient of the river increases with coldwater species increasing in abundance. The South Fork of the Payette River supports excellent populations of wild rainbow trout. The North Fork of the Payette River has been severely altered by railroad and highway construction and provides only a marginal fishery for salmonids. However, in unaltered sections such as the Cabarton reach, the North Fork is very productive for salmonids.
There are five major impoundments in the Payette basin, Black Canyon, Sagehen, Paddock, Cascade, and Deadwood reservoirs, also several small impoundments and natural lakes with increased storage, such as the three Payette Lakes. Black Canyon, on the mainstem, provides only marginal fish habitat. Sand from upstream land disturbances has covered most habitat. Paddock Reservoir, on Big Willow Creek, has one of the better populations of black crappie in the state and a good fishery for largemouth bass. Cascade Reservoir on the North Fork is one of the most heavily fished waters in the state. Cascade has an abundance of yellow perch, coho salmon, and rainbow trout. Deadwood Reservoir contains kokanee and cutthroat trout.
Alpine lakes within the Payette River drainage are stocked with rainbow trout, cutthroat trout, rainbow x cutthroat hybrids, golden trout, and arctic grayling. Brook trout are also present in a number of lakes.
---
Written and compiled by Jacqueline Harvey 1999.