Pend Oreille River Drainage
---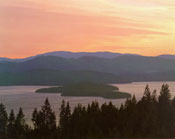 Priest Lake, Selkirk Mountains. Bartoo Island is in the foreground.

The Pend Oreille River drains about 24,200 square miles of land in western Montana and the Panhandle of northern Idaho. Most of the 2,133 square miles of the drainage within Idaho lie in Bonner County. Major tributaries of the Pend Oreille River include the Clark Fork, Flathead, Bitterroot, Blackfoot, and St. Regis rivers in Montana and the Priest and Pack rivers and Lightning Creek in Idaho.

Pend Oreille Lake is the largest natural lake in Idaho covering 85,960 surface acres with a shoreline length of 111 miles. The lake basin is deep and steep-sided with a maximum depth of 1,152 feet and mean depth of 538 feet. The combined surface area of Pend Oreille Lake and the backwaters of Albeni Falls Dam, located on the Pend Oreille River 23 miles downstream of the lake, is 94,720 acres.

Priest and Upper Priest lakes are glacial lakes connected by a shallow winding channel. Priest Lake has a surface area of about 23,360 acres with a maximum depth of 369 feet and mean depth of 123 feet. Upper Priest Lake is accessible only by boat or foot trail, covers about 1,400 surface acres, and has a maximum 100-foot depth. Spirit Lake has a surface area of 1,477 acres and a maximum depth of about 90 feet.

Westslope cutthroat trout, pygmy whitefish, mountain whitefish, and bull trout are the only salmonids native to the Pend Oreille drainage in Idaho.

Introduction of exotics has played both a positive and negative role in shaping the fisheries of the Pend Oreille drainage. Lake Superior whitefish were introduced to Pend Oreille in 1889. Eastern brook trout were widely distributed in the early 1900s and were successful in outcompeting and eventually replacing native cutthroat in some watersheds. Lake trout were introduced into Priest and Pend Oreille lakes in the 1920s.

During the 1930s, kokanee salmon became established in Pend Oreille Lake by moving naturally into the system from Flathead Lake in Montana in the early 1900s. Kokanee salmon were transplanted from Pend Oreille Lake to Spirit Lake in 1937 and Priest Lake in the 1940s. Kokanee established themselves quickly in each of these lake systems, displacing native mountain whitefish in the open water habitat.

The introduction of channel catfish, tiger muskie, and bluegill sunfish has diversified the warmwater fishery in several lakes. Other game fish in the Pend Oreille drainage include brook trout, brown trout, largemouth and smallmouth bass, northern pike, tiger muskie, yellow perch, black crappie, pumpkinseed, bluegill, bullhead, and channel catfish.
---
Written and compiled by Jacqueline Harvey 1999.