Salmon Falls Creek, Goose Creek, Rock Creek, and Raft River Drainages
---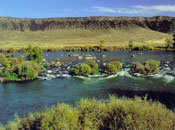 Kanaka Rapids, near Buhl.

There are four major drainages south of the Snake River between C.J. Strike Reservoir and Massacre Rocks - Raft River, Goose Creek, Rock Creek, and Salmon Falls Creek. The four drainages have a combined drainage area of over 6,870 square miles. Three major reservoirs, Oakley, Salmon Falls Creek, and Roseworth, and one minor reservoir, Sublett, store water for irrigation and flood control. These reservoirs all support trout fisheries varying from fair to excellent. Sublett has excellent trout reproduction in tributary streams.

All of these drainages have streams which support good wild trout populations. Species found in different portions of the area are rainbow, cutthroat, brown, and brook trout. Populations of native cutthroat trout are found in the Raft River and Goose Creek drainages. Leatherside chub, a species of concern, is present in Goose and Raft river drainages.

There are three alpine lakes which support game fish in the Raft River drainage: the Independence Lakes on Independence Mountain near Oakley, and Lake Cleveland on Mount Harrison. The Independence Lakes have good cutthroat trout and Arctic grayling populations which result from fry plantings. Lake Cleveland is accessible by road, and the fishery is maintained by catchable rainbow trout stockings.
---
Written and compiled by Jacqueline Harvey 1999.