Spokane River Drainage
---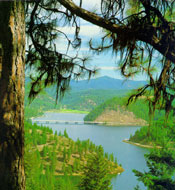 Lake Coeur d'Alene.

The Spokane River drains about 3,840 square miles in northern Idaho. The major tributaries of the drainage include the St. Joe, St. Maries, and Coeur d'Alene rivers which all feed into Coeur d'Alene Lake. There are many lowland lakes ranging from a few acres to 31,487-acre Coeur d'Alene Lake. Several lakes are close to the major population center and support important urban fisheries. River systems range from small mountain streams to the much larger St. Joe, Coeur d'Alene, and Spokane rivers. Mountain lakes are found in the headwaters of the South Fork Coeur d'Alene and St. Joe rivers.

Native game fish in the drainage include westslope cutthroat trout, bull trout, and mountain whitefish. The St. Joe, Coeur d'Alene, and St. Maries rivers contain populations of resident, river run, and lake run cutthroat trout.

Introduced game species include rainbow trout, kokanee salmon, brook trout, brown trout, chinook salmon, largemouth bass, smallmouth bass, pumpkinseed, bluegill, green sunfish, perch, crappie, bullhead, channel catfish, tiger muskie, and northern pike. A notable fishery for large wild rainbow and brown trout is present in the lower Spokane River. Largemouth bass are well established throughout the drainage's lakes.

Kokanee salmon have become the dominant species in Coeur d'Alene Lake and are still the most sought after game fish in the region. In 1979, the lake provided a harvest of nearly 600,000 kokanee salmon and supported over 250,000 angler hours. By 1981, kokanee salmon numbers exceeded carrying capacity in Coeur d'Alene Lake. Fall chinook salmon were introduced in 1982 to control kokanee salmon and have created a very popular sport fishery.
---
Written and compiled by Jacqueline Harvey 1999.