Teton River Drainage
---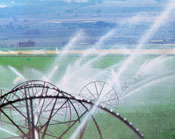 Irrigation sprinklers, west of Driggs.

The Teton River originates on the west slope of the Teton Mountains and drains 890 square miles to its confluence with the Henrys Fork near St. Anthony. Prior to the construction and collapse of the Teton Dam in 1976, the river supported a self-sustaining native cutthroat trout fishery. Cutthroat were in the highest concentration below the dam (57%) followed by the canyon (31%) and upper valley (22%). Wild and hatchery rainbow trout, hybrid rainbow x cutthroat trout, brook trout, and mountain whitefish are other game fish present.

Catchable rainbow trout have been stocked in the Teton Valley at about 7,500 per year from 1990 to 1994.

Although exotic wild rainbow and hybrid trout provide a significant component of the catch throughout the Teton River drainage (26% in 1988 and 41% in 1994), they pose a threat to the genetic integrity and long-term viability of wild cutthroat populations.
---
Written and compiled by Jacqueline Harvey 1999.