Bear River and Tributaries
---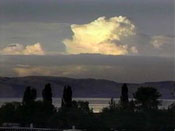 Bear Lake.

The Bear River and its major tributary streams comprise 524 river miles. There are a number of irrigation storage reservoirs in the drainage. Bear Lake, the largest lake in the drainage, covers 70,000 surface acres, 32,000 in Idaho.

Habitat for trout in the Bear River is marginal due to high, turbid irrigation flows in summer and inadequate flows during winter. Power facilities have been detrimental to fishing because reservoirs associated with them have rapid turn over, are vertically unstable, and block spawning migrators.

Main tributaries to the Bear River include the Malad and Cub rivers, Thomas Fork, Bloomington, Paris, Montpelier, Georgetown, Eight-Mile, Williams, and Mink creeks. St. Charles Creek is a major spawning stream for cutthroat from Bear Lake. Headwater tributaries of Thomas Fork contain populations of the unique Bonneville cutthroat which were identified from these tributaries in 1979 and 1981. In 1993 and 1994, Bonneville cutthroat trout were identified in most of the other tributaries of the Bear River, and the upper ten miles of the Cub River contains wild trout populations and receives heavy fishing pressure.

Most tributaries to the Bear River support populations of self sustaining cutthroat, brook, or brown trout. Highest concentrations of trout are found in the middle and upstream sections. Trout in the lower sections are affected by low summer flows and high temperatures resulting from irrigation withdrawal. Catchable rainbow trout are planted in accessible streams where habitat conditions and returns are favorable.

A number of irrigation reservoirs support game-fish populations in the Bear River drainage and if sufficient water remains at the end of the irrigation season excellent growth and over winter survival occurs. They are stocked with hatchery rainbow trout. In addition, a high percentage contain spiny-rayed game fish such as bluegill, yellow perch, and largemouth bass.
---
Written and compiled by Jacqueline Harvey 1999.