Clearwater River Drainage
---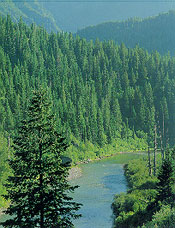 Kelly Creek Canyon, Bitterroot Mountains.

The Clearwater River originates in the Bitterroot mountain range on the Idaho-Montana border and flows westerly across the state to Lewiston where it joins the Snake River. The river drains approximately 9,640 square miles and ranges in elevation from nearly 9,000 feet msl to 725 feet msl. There are three major tributaries to the Clearwater River including the North Fork, the Middle Fork which originates at the confluence of the Lochsa and Selway rivers, and the South Fork. Mean annual discharge for the drainage is 15,290 cfs with a range of 500 to 177,000 cfs.

The eastern half of the drainage is mainly national forest land, while the western half is largely private land, including corporate timber holdings. There is also a scattering of state land in this area. The Nez Perce Indian Reservation makes up 13% of the drainage from approximately the South Fork Clearwater River to near Lewiston. Sixty-three miles of the main Clearwater and 11 miles of the South Fork are included in the Reservation. The entire drainage is part of the native American ceded lands.

Approximately 24% of the drainage in the Selway and portions of the Lochsa and South Fork Clearwater drainages are classified wilderness. The Middle Fork Clearwater, including the Lochsa and Selway rivers, is part of the National Wild and Scenic Rivers System. There is some remaining roadless area left in the Clearwater drainage that is not wilderness. Much of this unaltered area is found in the upper North Fork Clearwater River near Kelly and Weitas creeks and in the lower Selway and upper Lochsa drainages.

The drainage supports a myriad of fish. Major trout species include resident rainbow and cutthroat trout, bull trout, mountain whitefish, kokanee salmon, chinook salmon, and steelhead. There are approximately 450 mountain lakes in the area which support a mixture of hatchery-supported and naturally-reproducing populations of trout. Kokanee salmon are the most abundant species found in 16,970-acre Dworshak Reservoir, the largest impoundment in the drainage. Smallmouth bass are found in Dworshak Reservoir and the main Clearwater River.

There are ten lowland lakes and ponds in the area that are managed mostly for put-and-take fisheries utilizing catchable rainbow trout. Some of the waters support put-and-grow trout and kokanee fisheries resulting from fingerling releases. Warmwater species including largemouth bass, smallmouth bass, crappie, bluegill, and bullheads are important fisheries.
---
Written and compiled by Jacqueline Harvey 1999.