Salmon River Drainage - Mouth to Horse Creek
---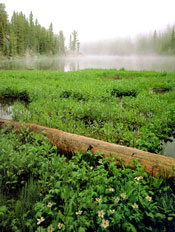 Bernard Lake, Sevin Devils Mountain, Hells Canyon Wilderness.

Horse Creek enters the Salmon River from the north side of the river 187 miles upstream from the confluence of the Salmon and Snake rivers. This reach of river is the migration corridor for spring and summer chinook, sockeye, and steelhead, as well as an overwintering area for adult steelhead and juvenile chinook and steelhead. There is also rainbow trout, cutthroat trout, and smallmouth bass. Sturgeon and bull trout are present in this reach of the river. Portions of the Salmon River between the mouth and Horse Creek are protected by wilderness and wild river status. The upper segment drains parts of the Frank Church River of No Return and Gospel Hump Wilderness areas.

The 53-mile section of river from the mouth to Hammer Creek is under consideration for classification in the Wild and Scenic Rivers System. This reach of river has limited access and provides for a quality steelhead fishing opportunity. White-water boating is increasing in popularity.

Many of the tributary streams in the Salmon River canyon are important producers of wild steelhead. These tributaries represent the largest and the only continguous production area for wild A-run steelhead trout in the Salmon River. Resident fisheries in these tributaries are supported primarily by wild juvenile steelhead trout. Chamberlain Creek also supports wild chinook salmon production. Most of these tributaries have good to excellent habitat.
---
Written and compiled by Jacqueline Harvey 1999.