Little Salmon River Drainage
---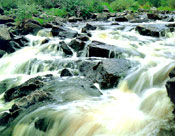 Little Salmon River, Salmon River Mountains.

The Little Salmon River heads in the Meadows Valley in Adams County and flows northward to its confluence with the Salmon River at Riggins. Major tributaries include Goose Creek, Hazard Creek, Boulder Creek, and Rapid River. Major lakes and reservoirs include Fish (Mud) Lake, Goose Lake, Brundage Reservoir, and Hazard Lake. The drainage area is 516 square miles and includes elevations from 1,760 feet msl at the mouth to 9,000 feet in the Seven Devils Mountains and Hazard Creek drainages. Discharge at Riggins averages 789 cfs with extremes of 54 cfs to 12,600 cfs recorded in the past 38 years.

Most of the drainage is forest lands, including wild and unroaded areas. There are 15,300 acres of irrigated agricultural lands, primarily hay meadows and pastures, in the drainage.

The Little Salmon River drainage from its mouth to and including Hazard Creek supports spring chinook salmon, steelhead, rainbow trout, cutthroat trout, bull trout, brook trout, mountain whitefish, and nongame species. Cascades prevent anadromous fish species from upstream migration beyond Round Valley Creek. Above Round Valley Creek, the Little Salmon River is a low gradient, meandering stream with high gradient tributaries.
---
Written and compiled by Jacqueline Harvey 1999.