South Fork Salmon River Drainage
---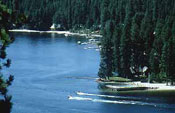 Ponderosa State Park, McCall.

The South Fork Salmon River drainage lies in central Idaho in Valley and Idaho counties. The drainage flows northerly through the Idaho batholith and enters the Salmon River at Mackay Bar. Elevations vary from 9,280 feet msl at North Loon Mountain to 2,166 feet msl at the mouth.

The land is characterized by extreme changes in elevation and aspect within short distances. Topography varies from steep canyon lands to meadows. The Idaho batholith soils consist largely of weathered granitic sands and fines and are sensitive to disturbance. Precipitation averages 32 inches annually, with major storm events occurring about every ten years.

The South Fork Salmon River is one of only three drainages in Idaho that supports populations of wild, native steelhead. These fish are predominantly large steelhead which spend two or three years in the ocean, compared to the smaller A-run steelhead which inhabit much of the rest of the Salmon River drainage.

Resident fish species, including rainbow trout, cutthroat trout, bull trout, mountain whitefish, brook trout, lake trout, kokanee, and numerous nongame fish species, occupy 515 miles of streams and 37 lakes.
---