Southeast Idaho Phosphate Mining
Probably the most important geologic unit to the economic history of southeast Idaho is the Permian Phosphoria Formation. This black limestone, shale, and phosphate rock contains the most persistently profitable mineral resource in the Gem State: Phosphate. Though Idaho has earned more money over its history from silver mining, Phosphate has been the most important source of mineral wealth since World War II. The rock is mined in open pits at several locations north of Soda Springs, and at the now closed Gay Mine east of Fort Hall. The ore is processed at plants in Pocatello and Soda Springs into elemental phosphorus and super phosphate which is used for fertilizer. Early phosphate mines, now abandoned, are found near Paris, Montpelier, and Soda Springs.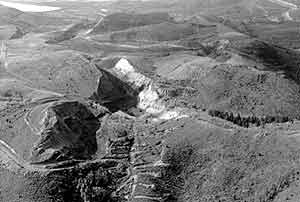 Aerial view of the Conda Mine, now abandoned, northeast of Soda Springs, (June, 1992).
In 1991 the J.R. Simplot Company completed a slurry pipeline to carry phosphate ore from its mine at Smoky Canyon in western Wyoming to its plant in Pocatello, thus freeing the company from the need to use the Union Pacific railroad to move the ore. Trains of ore cars are not about to disappear totally, however, as the new FMC mine in Dry Valley north of Soda Springs, will continue to use rail transport.
Origin of Phosphoria Formation
The Phosphoria Formation was deposited in an unusually productive shallow seaway, nourished by upwelling of nutrient-rich cold waters. The invertebrate organisms lived and died so rapidly that the phosphatic material in their soft tissues did not go back into solution in the ocean water, which is the normal case, but was buried and preserved in the smelly black mud. This mud, now hardened to phosphate rock, contains not only economically important deposits of phosphate, but other trace metals, including uranium, vanadium, and silver.
Generalized stratigraphic section for the Phosphoria Formation in the Gay Mine area (from Link and others, 1990).

Click on image for a larger view.
Though phosphate slag was used for years as a paving material in southeastern Idaho, Environmental Protection Agency regulations in the 1980s stopped most of this practice because of possibly harmful radiation levels in the slag.
Mine Reclamation
The southeastern Idaho phosphate industry has responded to federal laws requiring mine reclamation with energy and enthusiasm. All open-pit mines must now be reclaimed; filled in with rock and soil not processed for phosphate, and revegetated with grasses and trees to make the area suitable for grazing and recreation. In 1994 the Monsanto Company won an award from the Forest Service for Best Mine Reclamation efforts in the U.S.
---
top