Grays Lake and Blackfoot Lava Field
Volcanic activity of the Blackfoot Lava field over the last million years has produced the large flat area north of Soda Springs. Rivers here wander slowly through marshes, as if they were wondering which way to escape the basin.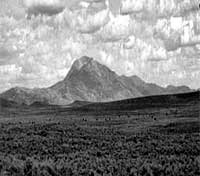 Caribou Mountain and Grays Lake basin from the west, (July, 1992).The mountain is held up by granite stock intruded in Eocene time, about 45million years ago. Gold in placer deposits eroded from veins around the stock has lured prospectors to the area for over 100 years.
Grays Lake has been an enclosed catchment area for water for at least a million years and contains a valuable record of pollen for the changing climates of Pleistocene time.
Lander Trail
The Lander Trail, named after F.W. Lander, who supervised its construction,went through the Grays Lake Valley. In the 1860s it became known as the Old Salt Road when salt was brought from Stump Creek to Montana, Boise and the west.
The Lander Trail was shorter than the Oregon Trail from South Pass to Fort Hall, but the hardships often extended the duration of the journey.Spring rains often made the trail impassable.
An admirer of the Lander Trail wrote:
"for four years the party has toiled-leveled mountains,bridged rivers, sunk tanks, and fought the Indians, and the result of their labors stands forth the model emigrant route of America."

---
top