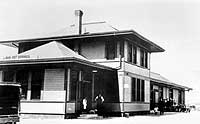 Lava Hot Springs railroad depot, about 1920. The depot is now used, in two pieces, as a farmhouse and a shed, north of U.S. Highway30 west of Lava Hot Springs. Clifford Peake collection, Bannock County Historical Society.

Hudspeth Cutoff
The Hudspeth Cutoff, after climbing high over the Portneuf Range south of the Portneuf River, wound down through Henderson Canyon and what is now the Lava Hot Springs golf course, to the river at a hill of Silurian dolomite known as Island Butte. The river formerly passed south of the Butte, but now flows only on the north side except in large floods. The dry channel can be seen from Highway 30. The Cutoff then headed up a small canyon south of the river and down into what became the rail station of Oneida and now is Arimo. From there it struck out west across Marsh Valley, crossing the Bannock Range south of Garden Creek Gap. Although this part of the Cutoff gained and lost considerable elevation, it was, at least, well-watered. The same cannot be said for the Cutoff west of the Bannock Range.

Mountain Man Bob Dempsey
Bob Dempsey, one of the last of the mountain men in southeastern Idaho,had a permanent camp west of Lava Hot Springs, where Dempsey Creek flows into the Portneuf. From 1851 to 1861, he trapped the mountains south of Lava, and effectively kept other trappers out. When the Hudson's Bay Company ceased operations in southeastern Idaho, Dempsey moved north to the Montana gold fields. Until 1915, the town of Lava Hot Springs was known as Dempsey, Idaho.
---
top