Page 142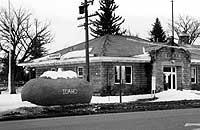 World Potato Exposition at the restored Oregon Short Line Depot and world's largest potato, downtown Blackfoot, (March, 1993).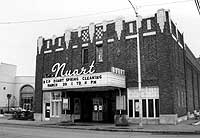 The Nuart theatre, downtown Blackfoot, (March, 1993).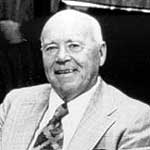 J.R. Simplot, in the 1970s, J.R. Simplot Company Collection.

Blackfoot
In 1880, Blackfoot was the largest city in Oneida County and residents thought that after the 1880 reapportionment of the Legislature their city was destined to become the new capital of Idaho territory. Eastern Idaho had more people than western Idaho. Oneida County had 2,000 more settlers than Ada County. But in a scenario which has been repeated time and time again in Idaho history, eastern Idaho came out on the short end. The apportionment committee was pressured by a group from Boise. Eastern Idaho received one vote less than the western counties, leaving Boise as the territorial capitol. Now Blackfoot is county seat of Bingham County and the Potato Capital of the World.

Gay Mine
The rocks north of Big Spring, east of Fort Hall, include the Permian Phosphoria Formation, which was mined at the Gay Mine (named for J.R. Simplot's daughter) from 1946 to 1993. Simplot, born in Dubuque Iowa, and raised in Declo, south of Burley, was an eighth grade dropout, and millionaire at the age of 30. In the 1990s he is one of the last American industrial barons. After beginning in the potato growing and shipping business, he developed a potato and onion dehydration plant near Caldwell, Idaho, in 1941, and sold his product mainly to the U.S. Government to feed soldiers in World War II. A scarcity of fertilizers prompted Simplot to enter the phosphate fertilizer business with the construction (using low-cost government war loans) of Idaho's first phosphate fertilizer plant west of Pocatello in 1944.

In 1946, Simplot negotiated a deal with the Bureau of Indian Affairs to open a mine on the Reservation east of Fort Hall, and in 1948, a rail line leading to the mine was built by Morrison-Knudsen Company under contract with Union Pacific Railroad.

The Gay Mine was closed down in 1993. Its ore reserves have nearly been exhausted. In the late 1980s, the Simplot Company opened a new phosphate mine at Smoky Canyon west of Afton, Wyoming, and FMC opened in the early 1990s, a similar new mine in Dry Valley, northeast of Soda Springs.

In 1977 Simplot and two of his companies pleaded no contest to charges of tax evasion and were fined $40,000 for failing to report $1.3 million in income. J.R. always pushed things to the limit. In a 1980 interview with an Associated Press reporter Simplot said "I'm an old man, but a tough old man. I've been lucky. I've had good people with me. I've had some breaks. But I made a lot of my breaks, son. I've been overextended all my life. It keeps me hustling."
"Anyone wishing to view some of the striking beauties of Idaho scenery has a delightful treat in store if he journeys to the summit of Pogowa, better known as Ferry Butte. Located in Bingham County on the south side of a curve in the Snake River, it affords a wonderful opportunity to feast one's eyes upon the expanse of mountain, lake, river, and fertile field, whose beauty is most inspiring. From this vantage point can easily be visualized in the mind's eye, the stirring scenes that occurred in Pioneer Days as the immigrants wound their way around Mount Putnam, down Ross Fork Creek, across the bottoms to Old Fort Hall." Jennie Broughton Brown, introducing text on Ferry Butte written by Susie Boice Trego (in Brown, 1932, p. 421).

View of Ferry Butte and irrigated farmland south of Fort Hall, looking northwest from Interstate 15. Behind Ferry Butte on the left is Middle Butte, in the middle is the south end of the Lemhi Range, and on the right is East Butte, (June, 1992).

---
top