Welcome to the Idaho Museum of Natural History's Anthropology Collections Database search pages.
---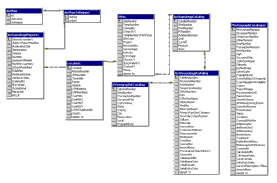 Click the above image to see the full Entity Relationship Diagram for the online database.

The Idaho Museum of Natural History's Anthropology Collections Database was originally set up to provide for administrative control of the artifacts contained within the various collections. As the database grew in size, it was realized exactly what a great resource was sitting unused in the Museum's archives. For this reason it was decided to provide a public interface to this information so that public and private educators, as well as professional investigators and researchers could finally begin to take advantage of this resource.

Below you will find descriptions of each collection, as well as links to the search pages and descriptions of the table definitions.

Click here for an Authoritative list of database entries

By clicking one of the buttons below you will be able to view the data contained in that section of the database.
(2,072 objects) The majority of this collection was donated by private individuals who lived in the Pocatello area around the turn-of-the-century. These collections focus on the Native American cultures of the Great Basin and Plateau areas of North America, and is particularly strong in Shoshonean ethnographic materials (including an excellent basketry collection and extensive photographic archives). Various categories of material culture are represented including household equipment, travel/transportation gear, clothing, and personal adornment. Other materials include a field collection from South America acquired by purchase in the 1950s for comparative purposes.

(2,170 photographs) Contained within this collection are a number of Ethnographic photographs. These photographs typically show people or places at or near the turn of the 20th century. A majority of these photographs are in fact copies of images held at other institutions, like the Smithsonian.

(44,728 objects) These collections contain both historic and prehistoric objects including lithic materials (stone flakes and tools), animal bone, soil samples, pottery, basketry, seeds and plants, and other specimen lots from excavated site contexts. The majority of these materials were recovered through archaeological surveys and excavations conducted since 1958. The IMNH Division of Anthropology is the designated repository for state and federal collections recovered from eastern Idaho, so most of the archaeology collections are maintained through the Archaeological Survey of Idaho - Eastern Repository.

The Survey is the lead state entity for the compilation, coordination, preservation and dissemination of archaeological survey data and long-term curation of collections in Idaho. The Survey is comprised of three regional repositories: the Eastern Repository (IARC) in Pocatello; the Western Repository in Boise; and the Northern Repository in Moscow.

The Survey maintains a statewide inventory of archaeological site and survey records for the State Historic Preservation Office (SHPO also functions as ASI's Western Repository). Each repository maintains records for specific counties by region. These repositories also curate collections for a variety of state and federal agencies under Memoranda of Agreement.