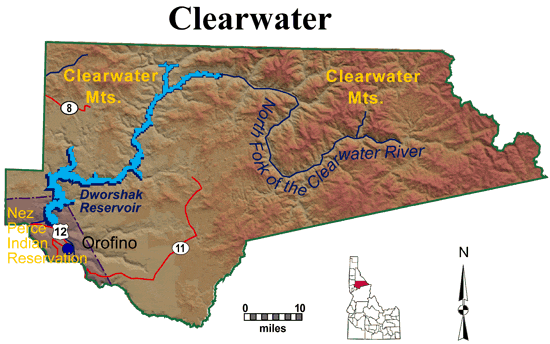 County Links
Cities and Towns:
Orofino
Fisheries & Drainage Regions
Clearwater River
---
Location
46.6680 N, 115.6576 W

Land Area
2,488 square miles

County Seat
Orofino

Population
9,455

Background
Established in February 27, 1911 with its county seat at Orofino. Named for the Clearwater River whose name was translated from the Nez Perce term Koos-Koos-Kai-Kai, describing clear water. In September, 1805, Lewis and Clark followed an old Indian trail between the north and middle forks of the Clearwater River and met the Nez Perce near the present site of Weippe. Gold was first discovered by E. D. Perce in 1860 and Pierce City, the oldest mining town in Idaho came into existence.

County Clerk
Box 586
Orofino, ID 83544-0586
Phone: (208) 476-5615
Fax: (208) 476-9315
Visit these Web Sites for more information.
---
ALSO VISIT
Demographics