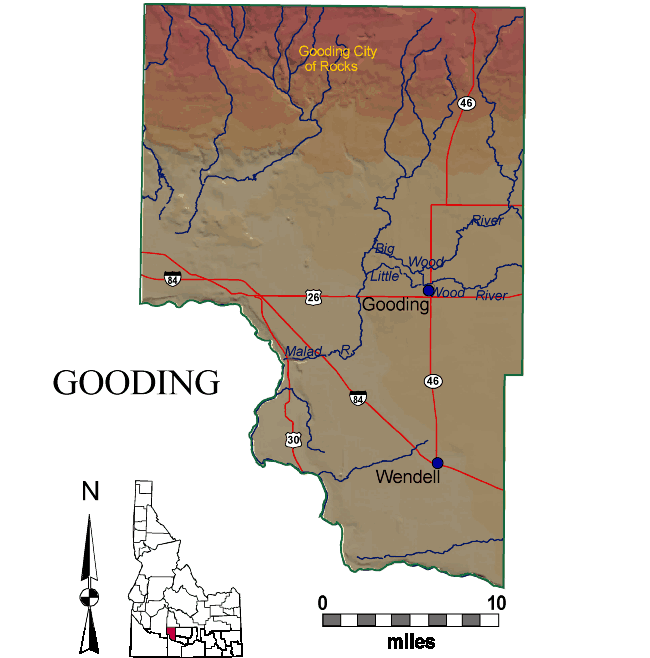 Gooding County
Gooding County is entirely on the Snake River Plain, north of the Snake River. Thus all the rocks are Miocene and younger, with Quaternary basalt covering most of the county.
In the north the Gooding City of Rocks, carved from Miocene rhyolite ignimbrites of the Twin Falls Volcanic Field, forms the south flank of the Mount Bennett Hills. A series of east-west normal faults cuts the Mount Bennett Hills, reflecting the rift-valley structure of the western Snake River Plain.
On the south, in the Snake River Canyon, are exposures of Miocene and Pliocene Glenns Ferry Formation below the Quaternary basalt flows. Hagerman Fossil Beds National Monument, itself located on the west side of the Snake River in Twin Falls County, has its headquarters in Hagerman.
Malad Gorge, a narrow canyon cut by the Wood River in the last few hundred thousand years, is a unique feature of southern Gooding County.
P.K. Link, 9/02

County Links
Cities and Towns:
Gooding
Wendell
Fisheries & Drainage Regions
Snake River-C.J. Strike
Snake River-Lake Walcott
Big Wood River

---
Location
42.9653 N, 114.8000 W

Land Area
733 square miles

County Seat
Gooding

Population
13,566

Background
Established January 28, 1913 with its county seat at Gooding. Named for Frank R. Gooding, pioneer sheep rancher, early mayor of the city of Gooding, later Idaho Governor and U. S. Senator. Mountain men and fur traders trapped the Malad River extensively in the early 1800s. Settlers came to the rich agricultural lands of the Hagerman Valley in the 1860s.
County Clerk
County Courthouse
Gooding, ID 83330-0417
Phone: (208) 934-4221
Fax: (208) 934-4408

Visit these Web Sites for more information.
---