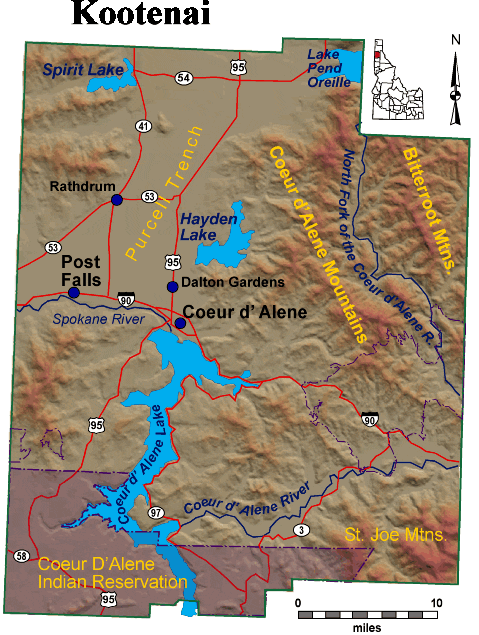 County Links
Cities and Towns:
Couer d'Alene
Dalton Gardens
Post Falls
Rathdrum
Couer d'Alene Indian Reservation
Fisheries & Drainage Regions
Spokane River
---
Location
47.6771 N, 116.6967 W

Land Area
1,310 square miles

County Seat
Couer d'Alene

Population
98,767

Background
Established December 22, 1864 by the Second Territorial Legislature with Seneaquoteen, a trading post below Lake Pend Oreille, as the county seat. Rathdrum replaced Seneaquoteen as county seat in 1881 and Coeur d'Alene replaced Rathdrum in 1908. Named for the Kutenai Indians who inhabited the area when the white man arrived. The word "Kootenai" is derived from the Kutenai word meaning "water people.".
County Clerk
PO Box 9000, 501 Government Way
Coeur d'Alene, ID 83816-9000
Phone: (208) 769-4441
Fax: (208) 667-8534
Visit these Web Sites for more information.
---
ALSO VISIT
Demographics