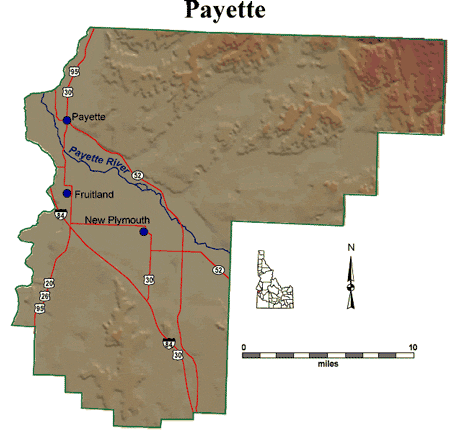 County Links
Cities and Towns:
Fruitland
New Plymouth
Payette
Fisheries & Drainage Regions
Snake River-Hells Canyon
Payette River
Boise River
---
Location
44.0101 N, 116.7578 W

Land Area
403 square miles

County Seat
Payette

Population
20,220

Background
Established February 28, 1917 with its county seat at Payette. Named for the Payette River which was named for Francois Payette, a Canadian fur trapper and explorer with the North West Company, who came to this county in 1818. He was the first white man in the area and brought the first cattle. Boomerang, which was named for the log boom on the Payette river, was constructed as a railroad camp in 1883 and later changed its name to Payette.

County Clerk
PO Drawer D
Payette, ID 83661-0277
Phone: (208) 642-6000
Fax: (208) 642-6011

Visit these Web Sites for more information.
---