Trading Posts: Fort Hall
Settlers were beginning to move into and through the Snake River area in the 1840s and 1850s, but settlement was almost nonexistent in what was to become Idaho. By the time the northern boundary of the United States had been established in 1846, the only places of permanent residence in the entire vast area east of the Cascades were Fort Hall and Fort Boise in the valley of the Snake River. Fort Hall, near the intersection of the Blackfoot River and the Snake, was established in 1834 by Nathaniel J. Wyeth, an American businessman who built the post in order to dispose of trading goods for which he had no use. Fort Boise, near the intersection of the Boise River and the Snake in western Idaho, was built in 1834 by Hudson's Bay representatives to neutralize Fort Hall's influence. Hudson's Bay Company ultimately acquired and operated both posts until the 1850s when the Company withdrew entirely from the United States. American fur trappers held annual Rendezvous at various spots in the Rocky Mountain area. Two rendezvous (1829 and 1832) were held in Idaho, both in Pierre's Hole (Teton Valley).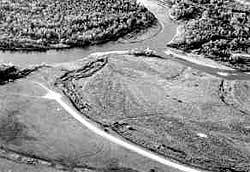 Site of Fort Hall on the south bank of the Snake River. The fort was established by Nathaniel J. Wyeth in 1834. The walls of the Fort are visible, though indistinct, in the ground halfway between the wide turn-around at the end of the road and the trees at the edge of the river. To the right (northeast) of the Fort the straight track of the trail to the Fort crosses the rough ground and slough, heading southwest. Most sources claim that this was the main Oregon Trail, but we believe that in later years the main Trail did not pass the Fort, see text, (May, 1989).
When the fur trade industry deteriorated in the 1840s Idaho had become less desirable as a source of furs, mainly due to overtrapping. Idaho, lacking good farmland or discovered mineral wealth, was totally undesirable as a place of settlement to the pioneers moving west around this time. However, there were areas eagerly sought after by settlers and miners in Oregon and California to the west. The final expansion of the United States westward across the entire continent was about to begin.
Beck, W.A. and Haase, Y.D., 1989, Historical Atlas of the American West: Norman, Oklahoma, University of Oklahoma Press, 78 maps.

Lavender, David S., 1965, The Great West: New York, N.Y., American Heritage Publishing Co.

Lohse, E.S. and Holmer, R.N., editors, 1990 (2nd printing 1992), Fort Hall and the Shoshone-Bannock: Pocatello, Idaho, The Idaho State University Press, 60 p.
---
top