Polygamy and anti-Mormon Laws
In Idaho the polygamy issue was to prove disastrous to Mormon goals for self-determination. Although fewer than 15% of Mormons were polygamists, many Church leaders were. This became a vehicle for religious persecution that resulted in the anti-Mormon political movement. From 1872 to 1892, this movement was dominant in Idaho politics. It molded the construction of the state.
In the 1870s and 1880s, Idaho Mormons voted Democratic as a bloc, as dictated by Church leaders. Due to Mormon block voting, the Democrats won the 1882 Idaho election despite a national Republican landslide. At a time so soon after the Civil War, when being Democratic came near to being equated with treason, this was fuel for anti-Mormon activism by Idaho Republicans. Furthermore, the polygamy issue became an emotional rallying point for individualistic Idahoans.
Prosecution of polygamist patriarchs led by U.S. Marshall Fred T. Dubois followed, and Mormon self-government became a dying dream.
"The effects of this unjust treatment of the Mormon population were, of course, very disastrous and disturbing ones. It poisoned all society relations between Mormons and Gentiles and led to many persecutions and unfriendly and hateful acts. Exaggerations in describing the supposed unhappy family relations of the Mormons were spread by their political enemies, and many settlers who had started a home and had successfully cultivated their lands left their farms in the fear of prosecutions and moved to new and remote valleys in the mountains to avoid spying in their family affairs." (Oscar Sonnenkalb, in Harstad (editor, 1972, p. 17).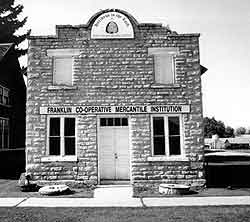 "The Co-op" in Franklin, Idaho. Cooperative stores were part of the Mormon governance pattern. The building was built in the 1860s. Photo taken May, 1992.
Edmonds-Tucker Act and Idaho Test Oath
In 1882, the U.S. Congress passed the Edmonds-Tucker Act, designed to eliminate polygamy. The Idaho Democratic party effectively betrayed its Mormon members soon after the 1882 election, by supporting anti-Mormon legislation in Idaho territory. The Idaho Test Oath, passed by the Idaho territorial legislature in 1884, disenfranchised anyone who "engaged in or belonged to an organization that advocated" bigamy or polygamy. The oath was designed to prevent Mormons from voting, holding political office, or sitting on juries. It succeeded.
The political cruelty of the anti-Mormon Idaho politicians of the 1880s fell on the broad shoulders of patriarchs who were accustomed to persecution and to fighting it with organization, community and faith. It was a classic harsh battle of late 19th century Victorian America. The end result of these political actions was to make the Mormons more self-sufficient and harden their opposition to the rest of the state of Idaho.
Idaho politicians have remained stubborn and cantankerous. Some aspects of Idaho politics have been as cruel in the 20th century as they were in the 19th.
State Boundaries
Just as North Idaho tried for 20 years to join with Washington, with which its economic system was more consistent, only to fail when the act of Congress establishing an expanded Territory of Washington was vetoed by President Cleveland in 1888, the Mormons of the Bear River area repeatedly tried and failed to be rejoined with their brethren in Utah.
Longtime Idaho historian Merle Wells (1978, p. 133) wrote:
"The national election of 1888 (in which Republican Harrison defeated Democrat Cleveland) culminated a series of accidents responsible for Idaho admission with its ill-advised territorial boundary configuration."

The borders of Idaho territory had been fixed in 1868. The southern border was established at the 42nd Parallel, the northern boundary of Utah Territory. The western boundary was established in the Idaho Territorial Act of 1863. The eastern boundary was fixed by the establishment of Montana Territory in 1864, and when Wyoming Territory was established in 1868 the existing shape of Idaho was set. These geographically awkward territorial borders were adopted as the state borders in 1890. Idaho thus contains parts of three disparate economic and geographic regions: the southeast which is oriented toward Salt Lake City, the north, oriented toward Spokane, and the west-central part, or the "True Idaho," oriented toward Boise.
In 1889, Idaho's electorate ratified a constitution containing anti-Mormon provisions. Most Mormons did not vote in that election. Idaho was admitted as a Republican, anti-Mormon state in 1890.
Renunciation of Polygamy

Although Brigham Young died in 1877, the practice of polygamy, which became a major obstacle to economic and political success of the Mormons, was not renounced until Sept. 24, 1890, when new Mormon President Wilford Woodruff "was favored with a new plural marriage revelation." He denied that the Church had sanctioned polygamy during his presidency. His manifesto agreed to submit to the laws of Congress:
"I now publicly declare that my advice to the Latter-Day Saints is to refrain from contracting marriages forbidden by the laws of the land" (Wells, 1978, p. 163).
Over a million dollars of Church property, which had been confiscated under the Edmonds-Tucker Act was returned on Feb. 10, 1894. Utah was admitted to the Union in 1896.

---
top