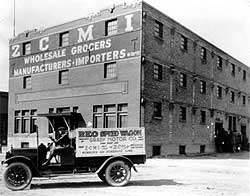 ZCMI Warehouse, in Pocatello, 1920s. Bannock County Historical Museum Collection.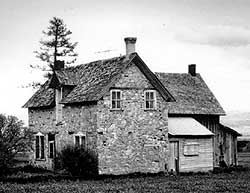 Stone house, east of West Side Highway, Clifton, Idaho. House was probably built in the 1870s. The tree in the left background is a western larch (tamarack), common in forests of northern Idaho and Montana, but almost impossible to cultivate in the alkaline soils of southeast Idaho, (May, 1991).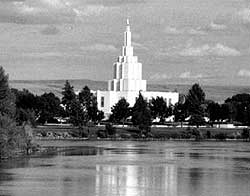 Latter-Day Saint Temple along the Snake River in Idaho Falls, dedicated Sunday, September 23, 1945, (July 1992).
For the people of Chesterfield, like so many other Mormon settlers throughout the American West, the old Christian metaphor of building Zion the city of God on earth became the reality of their daily lives.
Throughout the 20th century Idaho, Mormons have tended to favor the Republican Party and most state legislators from southeast Idaho have been Republicans. Ironically, in the 1980s and 90s, several Mormon Democrats (John Evans, Richard Stallings, Larry Echohawk) have achieved state or national office, though southeast Idaho Republicans seldom have been influential outside their local constituencies, being overshadowed in state politics by Republicans from the Boise area.
Arrington, L.J., 1979, The Mormon Settlement of Cassia County, Idaho 1873-1921: Idaho Yesterdays, v. 23, no. 2, p. 36-46.

Bitton, Dennis, 1979, Peopling the upper Snake: The Second Wave of Mormon Settlement in Idaho: Idaho Yesterdays, v. 23, no. 2, p. 47-52.

Coates, L.G., Boag., P.G., Hatzenbuehler, R.L., and Swanson, M.R., 1994, The Mormon Settlement of Southeastern Idaho, 1845-1900: Journal of Mormon History, Fall 1994, v. 20, p. 46-62.

Harstad, P.T., editor, 1972, Reminiscences of Oscar Sonnenkalb, Idaho Surveyor and Pioneer: Pocatello, Idaho, The Idaho State University Press, 66 p.

Morgan, D.L., 1987, The State of Deseret: Logan, Utah, Utah State University Press, 201p.

Simmonds, A.J., 1980, Southeast Idaho as a Pioneer Mormon Safety Valve: Idaho Yesterdays, v. 23, no. 4, p. 20-30.

Simmonds, A.J., 1988, Idaho's Last Colony: Northern Cache Valley under the Test Oath, 1972-1896: Idaho Yesterdays, v. 32, no. 2, p. 2-14.

Swetnam, Susan Hendricks, 1991, Lives of the Saints in Southeast Idaho: Moscow, Idaho, The University of Idaho Press, 188 p.

Wells, M.W., 1966, Walla Walla's Vision of a Greater Washington: Idaho Yesterdays, v. 10, no. 3, p. 20-31.

Wells, M.W., 1978, Anti-Mormonism in Idaho, 1872-92: Provo, Utah, Brigham Young University Press, 197 p.

van Zandt, F.K., 1966, Boundaries of the United States and the several states: U.S. Geological Survey Bulletin 1212, 291 p.