Topography & Populations


suggested grade levels: 7-12
view Idaho achievement standards for this lesson
---
Overview:
This lesson is to help students learn about Topography and Populations.

Procedure:
Look at the Hillshade of southeastern Idaho. Using Rocks, Rails and Trails, name and briefly describe each area indicated. Then select five areas, and for each one discuss how local topography, water availability and other concerns likely influenced historical settlement patterns and population distributions.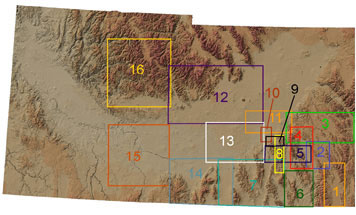 Handouts/Activity links:
These are links to access the handouts and printable materials.
Click here to access Rocks Rails & Trails.
Related Lesson Topics:
Geography: Geography Topics
---
Lesson Plan provided by Vita Taube, 2000
Idaho Achievement Standards (as of 7/2001) met by completing this activity: