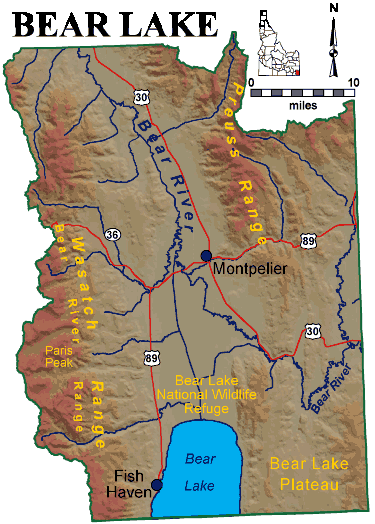 County Links
Cities and Towns:
Fish Haven
Montpelier
Bear Lake State Park and National Wildlife Refuge
Fisheries & Drainage Regions
Bear River
---
Location
42.2902 N, 111.3332 W

Land Area
1,050 square miles

County Seat
Paris

Population
6,577

Background
Established January 5, 1875 with its county seat at Paris. Named for Bear Lake, which lies half in Idaho and Half in Utah. In 1863 the first permanent settlement was at Paris, established by forty Mormon families who came in wagons, in ox carts and on foot over very difficult terrain from Cache Valley, Utah.

County Clerk
PO Box 190
Paris, ID 83261-0190
Phone: (208) 945-2212
Fax: (208) 945-2780

Visit these Web Sites for more information.
---
ALSO VISIT
Demographics