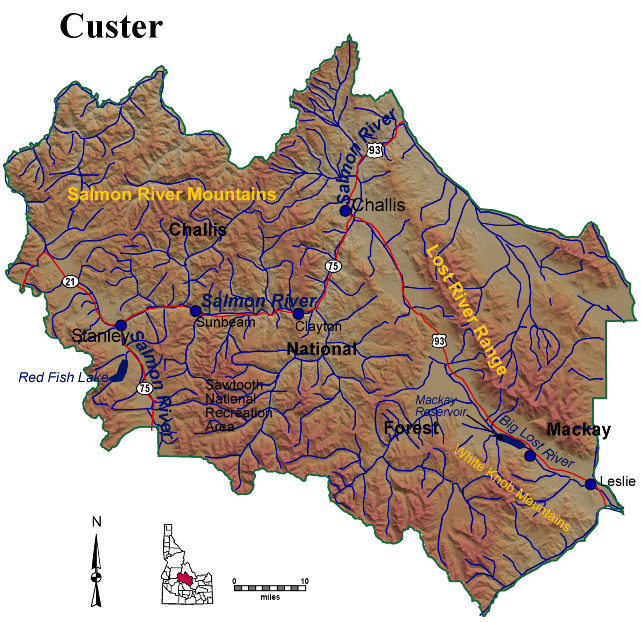 County Links
Cities and Towns:
Challis
Clayton
Leslie
Mackay
Stanley
Sunbeam
Fisheries & Drainage Regions
Salmon-Middle Fork
Salmon-N. Fork to Head
Pahsimeroi River
Salmon-East Fork
Salmon-Yankee Fork
---
Location
44.2317 N, 114.2939 W

Land Area
4,938 square miles

County Seat
Challis

Population
4,242

Background
Established January 8, 1881 with its county seat at Challis. Named for the General Custer mine, which was named in honor of General George Custer who died at the Battle of Little Bighorn. Its history begins with fur traders and pathfinders as early as 1824; later in the 1860s and 1870s prospectors and miners came. It contains portions of the Sawtooth, Salmon River, White Cloud, Pioneer, Lost River, and White Knob Mountains and contains the highest peaks in the state.

County Clerk
County Courthouse
Challis, ID 83226-0385
Phone: (208) 879-2360
Fax: (208) 879-5246

Visit these Web Sites for more information.
---
ALSO VISIT
Demographics