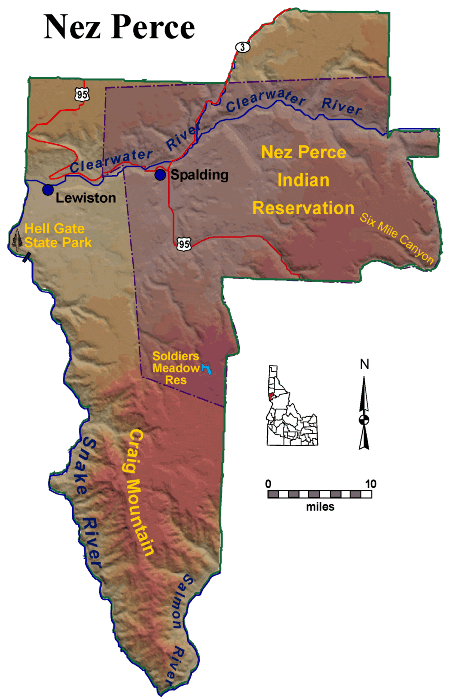 County Links
Cities and Towns:
Lewiston
Spalding
Hell Gate State Park
Nez Perce Indian Reservation
Fisheries & Drainage Regions
Snake River-Hells Canyon
Clearwater River
---
Location
46.3312 N, 116.7462 W

Land Area
855 square miles

County Seat
Lewiston

Population
36,819

Background
Established February 4, 1864 by the Idaho Territorial Legislature with its county seat at Lewiston. Named for the Nez Perce Indians who occupied the area before the white man. Previously established by the Territorial Legislature of Washington in 1861. This was one of the four original Idaho counties in 1863 from which all 44 have been carved. The present boundaries of Nez Perce County were set in 1911. Lewis and Clark were the first white men in the area in 1805. Lewiston served as the territorial capital for twenty-two months before the capital was moved to Boise.

County Clerk
County Courthouse
Lewiston, ID 83501-0896
Phone: (208) 799-3020
Fax: (208) 799-3070
Visit these Web Sites for more information.
---
ALSO VISIT
Demographics