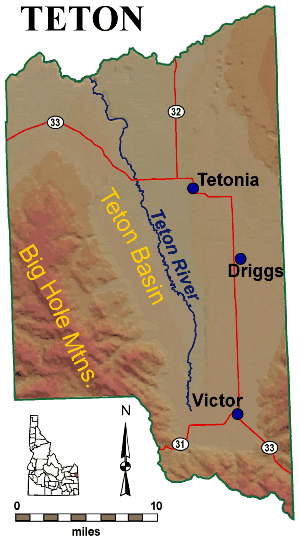 County Links
Cities and Towns:
Driggs
Tetonia
Victor
Fisheries & Drainage Regions
Teton River
---
Location
43.7549 N, 111.2125 W

Land Area
450 square miles

County Seat
Driggs

Population
5,310

Background
Established January 26, 1915, with its county seat at Driggs. It was named for the adjacent Teton mountains and valley. The valley was formerly known as Pierre's Hole where Indians held their councils and trappers met for their rendezvous.

County Clerk
County Courthouse
Driggs, ID 83422-0070
Phone: (208) 354-2905
Fax: (208) 354-8410
Visit these Web Sites for more information.
---