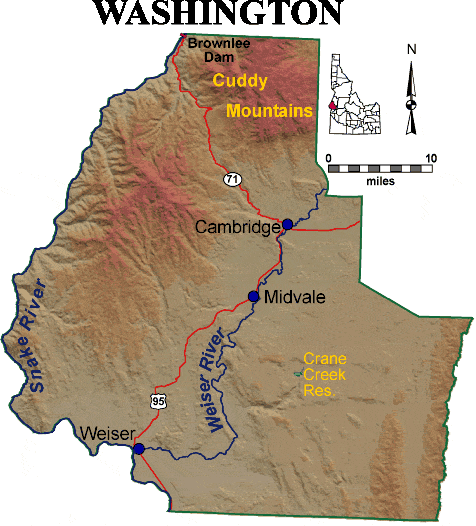 County Links
Cities and Towns:
Cambridge
Midvale
Weiser
Fisheries & Drainage Regions
Snake River-Hells Canyon
Weiser River
Payette River
---
Location
44.4489 N, 116.7790 W

Land Area
1,474 square miles

County Seat
Weiser

Population
10,090

Background
Established February 20, 1879 with its county seat at Weiser. Named for George Washington, the first president of the United States. Donald MacKenzie was one of the first white men in the area in 1811. Settlers came in the 1860s after gold was discovered in the area.

County Clerk
County Courthouse
Weiser, ID 83672-0670
Phone: (208) 549-2092
Fax: (208) 549-3925

Visit these Web Sites for more information.
---