Agriculture & Irrigation
---
Learn about some of Idaho's crops:
Potatoes
Barley
Beef
Trout
Sugar Beets
Sheep
Apples

Agriculture in the Western United States depends on the availability of irrigation water, and the possibilities for dry land farming. The physical characteristics of a region play a significant role in the type of farming chosen for an area. What are the climate conditions? What are the soil conditions? Is the land easily tilled or will it require a great deal of clearing of brush, trees or rocks? What kind of problems may be encountered with local wildlife? These and others are all conditions that early farmers had to consider as they began settling Idaho and establishing farms.

The first known effort at irrigated farming in Idaho was by Henry Spalding in 1838 as he atempted to keep the first potato plants grown in Idaho alive (he and some Nez Perce Indians tried growing potatoes and other crops at the Spalding Mission in northern Idaho). Later, in 1855, Mormon missionaries introduced the Shoshone Indians to irrigated farming in southern Idaho. The early ditches built then are still in use today in the Lemhi Valley.

Agriculture in Idaho began in earnest when Mormon settlers began migrating into southeast Idaho from Utah. They founded one of Idaho's earliest farm settlements at Franklin, Preston county, Idaho in 1860. Later that same year miners at Pierce, some 400 miles away, began to farm to help meet their own food needs. Thirty years later farming was to pass mining as Idaho's leading economic activity - a position it continues to hold today.

Almost from the first, Idaho farmers used the most modern equipment and techniques available. Farmers were able to charge high prices for their produce from area miners, and it was difficult to ship goods into the territory - in essence, a captive market was established that worked to the farmers' benefit.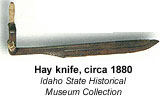 With their profits they bought new plows, threshing machines, mowers, rakes, reapers and later steam-powered tractors. With this kind technology, Idaho agriculture developed rapidly. Just 10 years after the towns of Franklin and Pierce were founded, the Boise valley had seven threshing machines. As railroads reached more and more areas of Idaho, farmers began to sell their produce to an ever expanding market. They no longer depended solely on the miners to buy their produce. Products such as Idaho potatoes began to reach all parts of the nation.
The drier areas of southeastern Idaho needed a different kind of farming. Lack of enough rainfall but a desire to grow crops created an interesting new agricultural method, dry farming, to be developed. The crops were planted every other year, and in alternate years the land was left unplanted and worked to help it hold in moisture in preparation for the next years crop. Some areas were so dry crops could only be planted every three years. Farmers using this method rotated their crops so that part of the land was in crops each year. In the Mormon settlements in the southern part of the state, church managed irrigation projects began to convert barren deserts to productive farmland.
When Union Pacific built a railroad line across southern Idaho in 1880, canal companies in Boise began numerous projects to bring water to the surrounding deserts. Although these canal companies needed government aid to complete these projects, more and more of the previously dry, barren land in Idaho was turned into rich farmland - an accomplishment that was not without controversy.
Click here for a historical essay of the development of irrigation in the Boise valley (this is a PDF document.)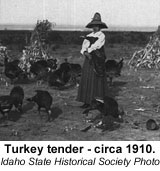 Northern Idaho had more favorable conditions for farming. It had sufficient rainfall and rolling hills covered with rich fertile land. Because of this irrigation wasn't necessary and with a little sweat they could clear large tracts of land for wheat. Farmers from Washington moved into Idaho's Palouse country after 1870, and many new farming communities, Moscow among them, soon sprang up.
As settlement of Idaho territory continued, and with the coming of statehood federal involvement in the west increased. The Homestead Act, the Desert Lands Act and the 1894 Carey Act all contributed heavily to the increased development of agriculture and irrigation in the state - particularly in southern Idaho. To encourage settlement in drier regions Congress passed the Carey Act, which offered up to 1 million acres of federal land to anyone who could irrigate it, and turn it into farmland within 10 years. As an example of the influence of this piece of legislation consider the story of Ira Perrine. An orchardist from Indiana, he relocated to the Snake River Valley, constructed 65-miles of canal systems converting 244,000 desert acres into orchard - in the process founding present day Twin Falls. Also influential was the passage of the Newlands Act in 1902, which led to establishment of the U.S. Bureau of Reclamation. Numerous projects subsequently undertaken by the Bureau brought dams and canal system along length of the Snake River Valley. By 1910 much of Idaho was under irrigation.
ALSO VISIT: Chapter 8 of Rocks, Rails and Trails
All of Idaho has benefited from the programs mentioned above. Diverse crops now flourish in all regions of the state. Approximately 60 percent of all Carey Act lands are within the borders of the state, and federal irrigation projects remain significant.
Wheat is the major crop of north Idaho. Other crops raised there are grass seed, wild rice, peas and lentils. Livestock is also raised in northern Idaho.
Most of Idaho's crop farming takes place in the south. Most towns along the Snake River Plain depend on agriculture.
Click here for a demographic profile of the state, which includes agriculture statistics. (this is a PDF document.)
Southwestern Idaho is a major cattle producer, as well as growing sugar beets, potatoes and seed crops. Also important to southwestern Idaho are fruit orchards. Idaho ranks fifth in the nation in the production of sweet cherries.
South-central Idaho is a mixture of very productive irrigated farms in the lowlands and pasture land for grazing in the upland regions. A large variety of crops are grown in the irrigated areas including onions, corn and apples.
Southeastern Idaho is the ideal place to grow the famous Idaho potato. Crops of hay, wheat and alfalfa, as well as livestock and dairy farming make the area one of the most productive in the state.
The natural vegetation of the state's plains is mainly sagebrush. Since sagebrush has no value to industry, such area has been converted to farming wherever possible. There are still large areas of sagebrush land in Idaho, however, much of this land is owned by the government of the United States. Ranchers are allowed to use areas of the desert lands for rangeland where cattle and sheep graze during the summer months.
In addition to public lands ranching, numerous private cattle ranches are in operation in the state. There are also 24,000 crop farms operating in Idaho. Almost two-thirds of these farms are small farms where the families farm part-time and have other sources of income. Almost one-half of Idaho farms are less than 100 acres in size, while the largest (five per cent of the farms) take in 51 per cent of all farmland.
Most of the farm and ranch income in Idaho comes from a suite of seven major products. These are cattle, potatoes, milk, wheat, barley, sugar beets and hay. Of these, cattle contributes the most economically, while potatoes are second. The state ranks first in the nation in the production of potatoes and hatchery trout. Of all the potatoes in the United States, 24.6 per cent, in 1986, were grown in Idaho and 85.4 per cent of all hatchery trout in the nation were produced here. Idaho ranks third in the nation in the production of barley, sugar beets, hops and mint. Idaho ranked 7th in wheat production in the United States, producing 5 percent of the 1995 U.S. wheat crop. Idaho ranked 2nd in barley production in the United States, producing 13 percent of the 1996 U.S. barley crop.
Much of Idaho's economy centers around processing industries for Idaho farm products, such as plants for processing potatoes, sugar beets, and wheat. Over two dozen potato and sugar beet plants are found throughout the state. Almost 16,000 people in Idaho work in the food-processing industry. For example, the Simplot potato-processing plant near Caldwell produces a large portion of the french fries sold at McDonald's restaurants throughout the nation.
---