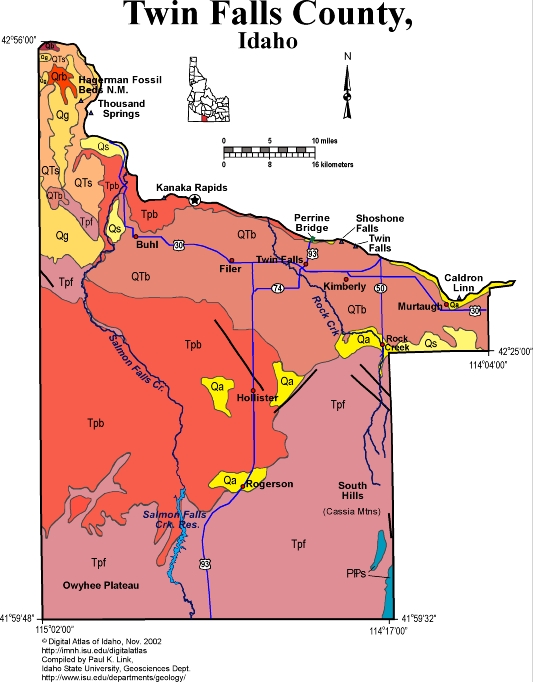 | | |
| --- | --- |
| | Geologic Maps |
| | Quaternary alluvial deposits |
| | Gravels and terraces on western Snake River Plain |
| | Quaternary surficial cover, fluveolian cover on Snake River Plain, alluvial fans (Snake River Group) |
| | Recent basalt lava |
| | Pleistocene and Pliocene basalt lava and associated tuff |
| | Pliocene and Upper Miocene felsic volcanic rocks, rhyolite flows, tuffs, ignimbrites (includes Moonstone rhyolite) |
| | Pliocene and Upper Miocene basalt (Starlight Formation, Salt Lake Formation) |
| | Pleistocene basalt lava |
| | Pleistocene and Pliocene stream and lake deposits |
| | |
| --- | --- |
| | Map Key |
| | Geologic units with unit designation. |
| | Normal Fault: certain; dashed where approximately located; dotted where concealed. |
| | Thrust Fault: certain; dashed where approximately located; dotted where concealed. |
| | Detachment Fault: certain; dashed where approximately located; dotted where concealed. |
| | Interstate Route. |
| | U.S. Route. |
| | State Route. |
| | Location of Rockwalk rock from the county. |
| | Cities. |
| | Feature location. |
Twin Falls County
Twin Falls County covers a large area on the south side of the Snake River. It includes the South Hills or Cassia Mountains, made of a spectacular pile of north dipping rhyolite ash flows laid out for view in Rock Creek Canyon. Under these rhyolites are Pennsylvanian and Permian sedimentary rocks that are equivalent to the Sun Valley Group near Hailey and Ketchum.
On the southwest are the foothills of the Owyhee Plateau, also underlain by Miocene ignimbrites and rhyolite lava flows.
In the central part of Twin Falls county are extensive irrigated fields, that use Snake River water withdrawn at Milner Dam east of Murtaugh.
The Snake River, with its spectacular canyon deepened during the Lake Bonneville Flood about 15,000 years ago, forms the northern boundary of the county. Shoshone Falls cascades over Miocene rhyolite of the same age as the ash flows in the South Hills and in the Gooding City of Rocks. Twin Falls is cut in Quaternary basalt. Huge gravel bars of "melon gravel" line the Snake River Canyon west of Twin Falls near Buhl and Hagerman.
In the northwestern corner of the county are the Pliocene fossils beds of Hagerman Fossil Beds National Monument. These river and lake beds contain diverse mammal, fish, reptile and other fossils that are about 3 to 4 million years old.
P.K. Link, 9/02
Additional Reading

Rocks Rails and Trails: pages
Introduction to the Geology of South & East Idaho
Introduction to Geologic Diagrams
Introduction to Geologic Diagrams
Relations between Geology, Topography and Drainage Systems in Idaho
Drainage and mountain range map for eastern Idaho
Table of Geologic Events in Southern Idaho
The Snake River Plain-Yellowstone Hot Spot and its Effect on Drainage Patterns
Challis Volcanic Group & Intrusive Rocks
Lake Bonneville and its Flood
Disposal of Wastes at the Idaho National Engineering & Environmental Laboratory
References on Idaho Geology
Section 3, History of Eastern Idaho
Section 3, Chapter 8 -"Famous Potatoes" Agriculture & Irrigation
Section 7, Chapter 23 - Twin Falls Area & the Magic Valley
Click here to see a correlation of geologic units, and the associated time scale.
Click here for a printable version of this map.
Click on the button below to search the IdahoGeologic Survey's index of Geologic Maps