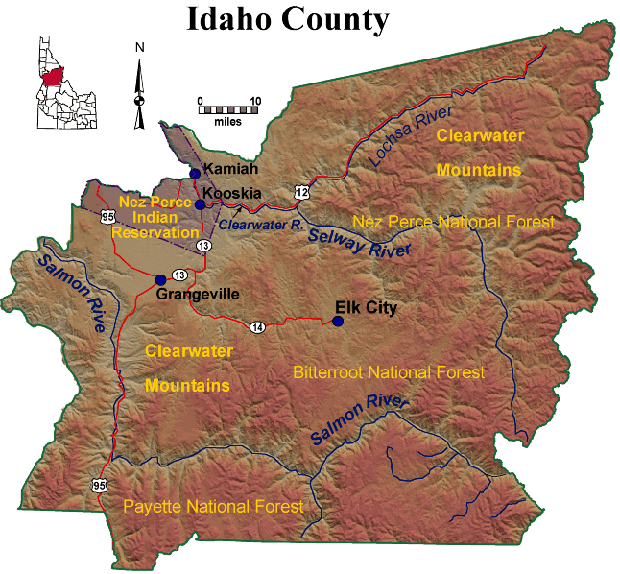 County Links
Cities and Towns:
Elk City
Grangeville
Kamiah
Kooskia
Bitterroot national Forest
Payette National Forest
Fisheries & Drainage Regions
Clearwater River
Salmon R. Mouth to Horse Cr.
Little Salmon River
Salmon River-S. Fork
Salmon-Middle Fork
---
Location
45.8469 N, 115.4592 W

Land Area
8,503 square miles

County Seat
Grangeville

Population
15,082

Background
Established February 4, 1864 by the First Idaho Territorial Legislature with its county seat at Florence. In 1861 it had been established as the third county of the Washington Territory. Named for the Steamer Idaho that was launched June 9, 1860 on the Columbia River and served miners during the gold rush in north Idaho. In 1875 Mount Idaho was named the county seat, in 1902 the county seat was moved to Grangeville following a 10-year struggle between Grangeville and Mount Idaho.

County Clerk
County Courthouse
Grangeville, ID 83530-1992
Phone: (208) 983-2751
Fax: (208) 983-1428
Visit these Web Sites for more information.
---
ALSO VISIT
Demographics